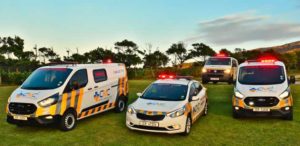 CMC Critical Medical Care is a private Advanced Life Support Ambulance service registered with the Western Cape Department Health. Based in Hermanus and Gansbaai, we deliver our 24-hour Ambulance and Emergency Medical Services to the surrounding Overberg region of the Western Cape with highly qualified and experienced Paramedics.
We provide a comprehensive emergency medical and pre-hospital solutions to our clients.
Our Services Include:
24/7 Basic, Intermediate and Advanced Life Support Paramedics
Advanced Life Support Primary Emergency Response
Immediate access to Advanced Care
Interfacility Transfers, Basic Life Support op to Advanced /MICU (Mobile
Intensive Care Capable Ambulances.
Clients do not have to be a member of CMC Critical Medical Care to have access to our services.
We accept and render services to:
All medical aids
Private clients
Private insured clients
Work related injuries/COID
Member Subscriptions
Our Equipment includes but not limited to:
Advanced Airway Management and ventilation support providing SIMV, CPAP, CMV, A/C
Vital Signs monitor
Intravenous therapy
Medical Oxygen supply
Infusion Pumps
Syringe Drives
Medication as per Advanced Life Support Paramedic HPCSA Protocols
Advanced Cardiac Life Support including cardiac pacing, cardioversion, defibrillation and acquiring 12 Lead ECG.
Immobilisation including providing all Equipment for stabilisation of fractures and spinal injuries including Vacuum Mattress.