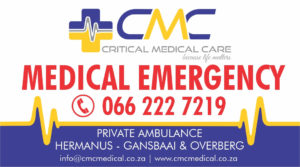 Medical and trauma emergencies can strike at any time. You can make a difference to others playing a crucial part of the chain of survival when prepared. Why? Because Life Matters to us all.
Critical Medical Care is situated in Hermanus, and Gansbaai, Overberg region of the Western Cape.
We value you as a client. Through a professional and passionate approach we provide assistance in case of medical emergencies.
We are solution orientated and our tailored pre-hospital emergency services can serve any clients needs.
Product Summary
Ambulance Emergency Services
Event Medical Services
Corporate EMS
Individual Member Subscriptions
Training
24/7 Emergency Call Center
We look forward of being of service to our clients around the Overberg from our operations in Hermanus and Gansbaai.